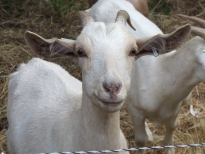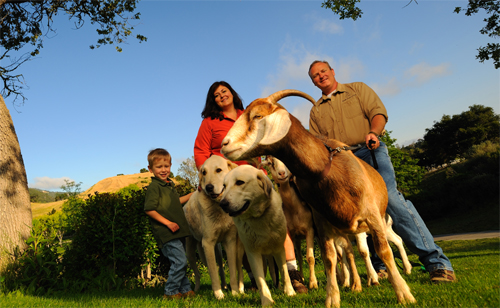 Our Company, Brush Goats 4 Hire is a local, licensed and insured family operation. Based in Santa Barbara County, we are happy to offer this eco-friendly alternative to our friends and neighbors for brush thinning, fuels load reduction, and land restoration. Working directly with each client, jobs are customized to support their needs as well as the land's needs for optimal balance. One of our goals is to be able to help educate our clients, neighbors, City, and County on the many benefits of this very useful 'Target Browsing' system.
Our Goats are a mix of Boer, Kiko, LaMancha and Spanish breeds. This herd combination of specific animals is selected based on aggressive brush eaters, easily and naturally able to traverse difficult terrain, while maintaining optimal health. They are entertaining to watch. Ours stay onsite 24/7 to 'work' removing vegetative materials.  Then they lounge around enjoying our local sunrises and sunsets at their chosen, optimal, vantage points. They are not of the "petting zoo" variety; however, they are wonderful workers and enjoy their careers.
Our Dogs are from the Anatolian, Akbash and Great Pyrenees breeds used for centuries for predator control. They are amazing and beautiful working animals, yet they should not be compared to your traditional, household pet. Their natural and very strong instincts allows them to be extremely effective in protecting our herds against coyotes, bobcats, bear, mountain lions, domestic dogs and any other predator that threatens their "family." They are vital for our work.
Our Fencing is a state-of-the-art, electric, netting style that is charged by solar panels. It allows for a safe and effective method of livestock and predator control dog containment. All our animals are trained and respect this style of fencing.
Our Ideal Site (Site Requirements):We know goats are a great solution for vegetation management and we'd like to be able to offer everyone this healthier solution. However, we run it as a business and our goats must stay happy and healthy to do their job. So, our ideal site:
Is over 3 continuous acres (unless you have 'goat proof fencing' already in place like chain link to/into the ground, or similar fencing).
Has no avocado trees present.
Has no oleander within goat grasp.
Is not a "field of foxtail" - even goats have their limits.
Has little to no items to exclude from the goat browse zone that the client does not want consumed. Our fencing can go around or even exclude most, however, this adds to the labor/cost.
Does have poison oak, invasive species such as cape ivy, bull thistle, artichoke thistle, star thistle, arundo, periwinkle, wild garlic, carnation splurge, various grasses, overgrown berry vines, castor beans (seed head pods cut and removed) and other scrumptious overgrown vegetation.
"Local And Here to Help"
Brush Goats 4 Hire
Ian Newsam & Lorraine Argo
(805) 705-2554